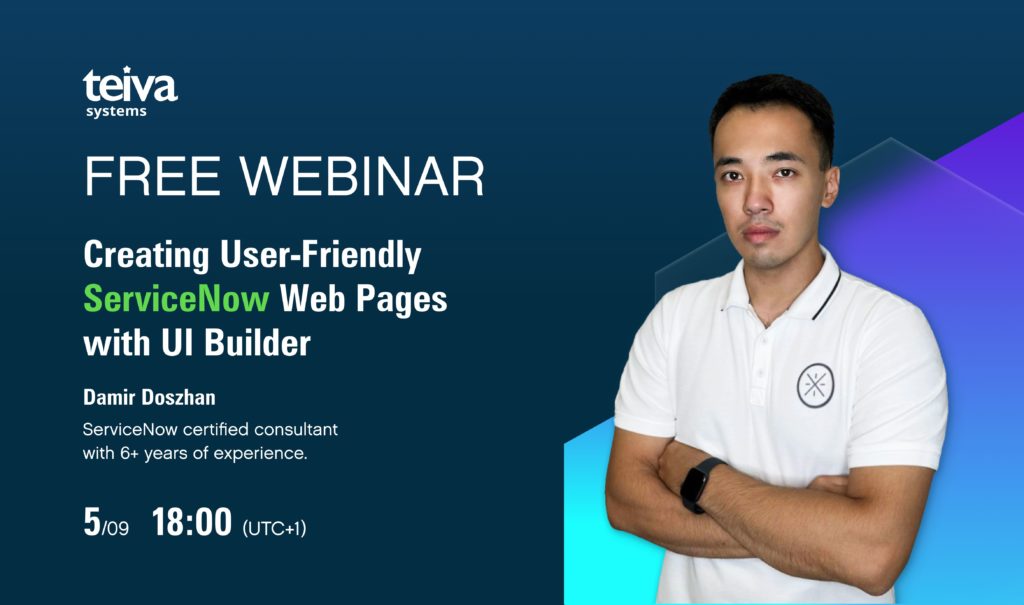 Creating User-Friendly ServiceNow Web Pages with UI Builder
🎉 Join our upcoming webinar to discover how to create stunning web pages in #ServiceNow using the power of UI Builder and Figma templates! 🎨🌐
📅 Date: 5/09 ⏰ Time: 18:00 (UTC+1) 🔗 Registration Link: https://teivasystems.com/webinar/
📣 Who Should Attend? This webinar is tailored for individuals eager to explore and harness the capabilities of the UI Builder tool within the ServiceNow platform. Whether you're a ServiceNow Administrator, Developer, App Builder, UX Designer, Business Analyst, or anyone interested in modern UI development on ServiceNow – this webinar is for you!
🌟 What You'll Learn: By attending this webinar, you will dive into the world of UI Builder and its potential to transform your application interfaces. Here's what you can expect to gain insights into:
UI Builder Features and Capabilities: Discover the dynamic features of UI Builder, including its user-friendly drag-and-drop interface, versatile components, customizable templates, and more.

Custom Interfaces: Learn how to design captivating, user-centric interfaces for your ServiceNow applications without the need for extensive coding expertise.

UX Design Principles: Explore UX design principles and best practices to create interfaces that excel in user satisfaction, accessibility, and usability.

Tailoring Applications: Witness how UI Builder can be your go-to solution for tailoring applications to specific business requirements, enriching overall user experiences.

Real-World Use Cases: Get inspired by real-world examples of organizations leveraging UI Builder to elevate their applications and user interfaces.
📚 Why Attend? Equip yourself with the knowledge and skills to build modern portals and workspaces from scratch using Figma templates through the UI Builder web interface. Whether you're a seasoned professional or have limited coding experience, this webinar is your gateway to mastering UI development on the ServiceNow platform.
Don't miss out on this opportunity to expand your horizons in UI development and customization.
Mark your calendars and register now! 🔗https://teivasystems.com/webinar/
#ServiceNow #UIBuilder #Webinar #FigmaTemplates #UserExperience
Kostya Bazanov, Managing Director, Sep 04, 2023