Kanbanize + ServiceNow Integration: How to Make Two Cloud Platforms Even More Effective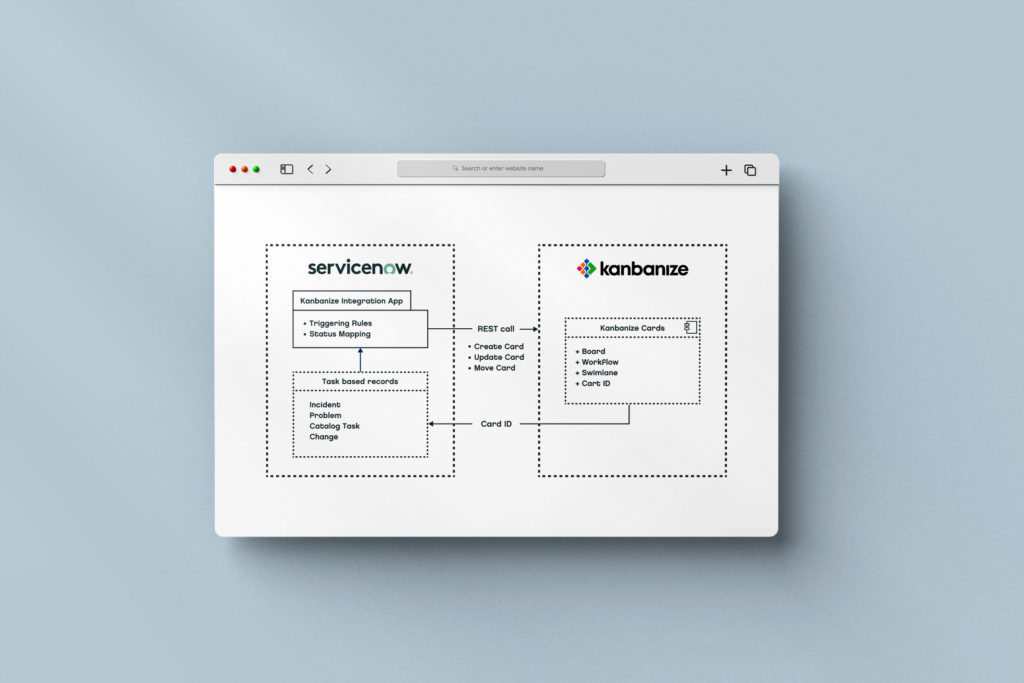 CHALLENGES
Establish a process of Kanbanize Cards creation based on the tickets from ServiceNow

Schedule tickets sending to meet Kanbanize API limitations

Set up the automated statuses sync

Develop the user-friendly interface with settings
BUSINESS VALUE
Flawless integration between two cloud platforms

Removal of manual task duplication and significant man-hours savings

Perfect helpdesk workload visibility

Visual reports on the dashboard
EXECUTIVE SUMMARY
Kanbanize allows you to handle even the most complex projects, products, strategic initiatives, or other large pieces of work in a single environment. With Kanbanize it is possible to create various dashboards for better workflow visibility. Different graphs for teams and departments allow us to see at a glance the total workload, task volume, responsible persons, and so on.
In reality, modern companies use more than one software solution, and the part of the processes and tasks can be isolated. For example, service desk and help desk teams manage their tasks on the ServiceNow platform. If the management wants to see their tasks, statuses, and total workload, they have to do the double job creating the tasks on Kanbanize manually.
A client of ours with a similar complex scenario ordered the integration between Kanbanize platform and ServiceNow to duplicate ServiceNow tasks on Kanbanize automatically. All task management proceeds on ServiceNow, but Kanbanize provides the general view for better visibility.
SOLUTION
The project started in March 2021 with a meeting between the Teiva Systems team and Kanbanize team. The teams discussed the project roadmap and MVP, after approval the development started. The first MVP was ready in three weeks.
Discovery
Perform overview of the ServiceNow instance on the client's side
Define the necessary processes to integrate the Kanbanize solution
Solution Installation
Install a solution on client instance
Configure a set up for agreed processes (incident management, change management, request fulfillment, project management)
Migrate the existing ServiceNow tickets to Kanbanize
Test a solution
Сustomization
Develop additional features requested by a client (flexible trigger rules, sending additional info to Kanbanize, synchronize Kanbanize card when ServiceNow task is updated)
Test additional features and perform regression testing
User Acceptance Testing & Training
Conduct training session to explain solution capabilities
Train users on the main use cases
Provide recording of the session and user guides
Conduct UAT to get sign off
Kanbanize
Kanbanize is the leading Kanban software for agile project and portfolio management. It provides visibility across all projects and portfolios, connects planning with execution, and helps teams deliver faster. Kanbanize is a trusted vendor for more than 1000 companies and 150+ partners all over the world.
Yuliya Nesen, Marketing Manager, Dec 22, 2021