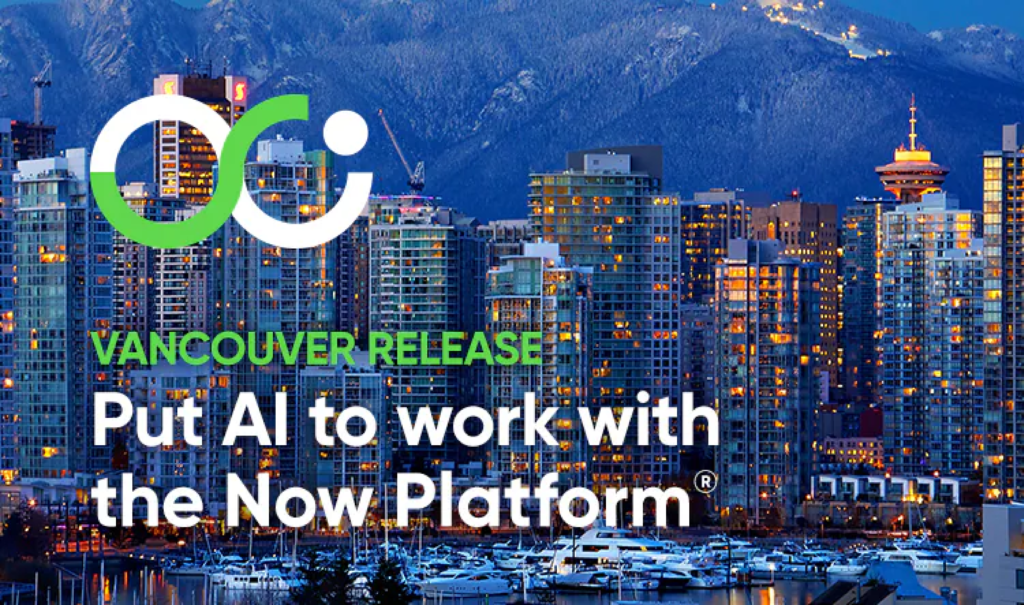 ServiceNow Introduces the Vancouver Release: A Leap in AI-Driven Digital Transformation

ServiceNow proudly presents the Vancouver release, marking a significant milestone in the realm of AI-powered digital transformation. With the introduction of Now Assist into Vancouver software platform release, ServiceNow is revolutionizing the integration of GenAI across three critical workflows: IT Service Management, Customer Service Management, and HR Service Delivery. These enhancements encompass innovative features for text generation, summarization, and an interactive chatbot interface designed to expedite employees' access to pertinent information.
ServiceNow has developed its own domain-specific large language model, Now LLM, to empower these enterprise workflows. Nevertheless, enterprises also retain the flexibility to integrate these new assistants with other commercially available models or their custom solutions.
A notable highlight of the Vancouver release is the inclusion of new automation and security tools, catering to the evolving needs of contemporary enterprises.
We are thrilled to announce great news, ServiceNow added new GenAI solutions tailored to every workflow:
Now Assist for IT Service Management: GenAI aids IT teams in rapid problem-solving by offering incident summaries for quicker handoffs and resolutions. It can also assist in generating and updating work notes.
Now Assist for HR Service Delivery: From automated issue notifications to case topic summaries, GenAI enhances productivity and efficiency for HR teams. There's no longer a need to switch between different tools—everything employees require is conveniently available in one place.
Now Assist for Customer Service Management: Customers are the lifeblood of any business. When satisfaction drops or delivery lead times increase, these issues must be promptly addressed. Now Assist generates precise summaries detailing the current situation, eliminating the need for guesswork or time wasted searching for information. Customers can quickly and effortlessly find what they need for improved self-service.

Now Assist for Creators: The developer experience is ripe for transformation. GenAI empowers developers of all skill levels to build quickly, ultimately leading to organizations achieving faster outcomes. Now Assist enables developers to generate code from a text prompt, a code prompt, or a prompt combining text and code.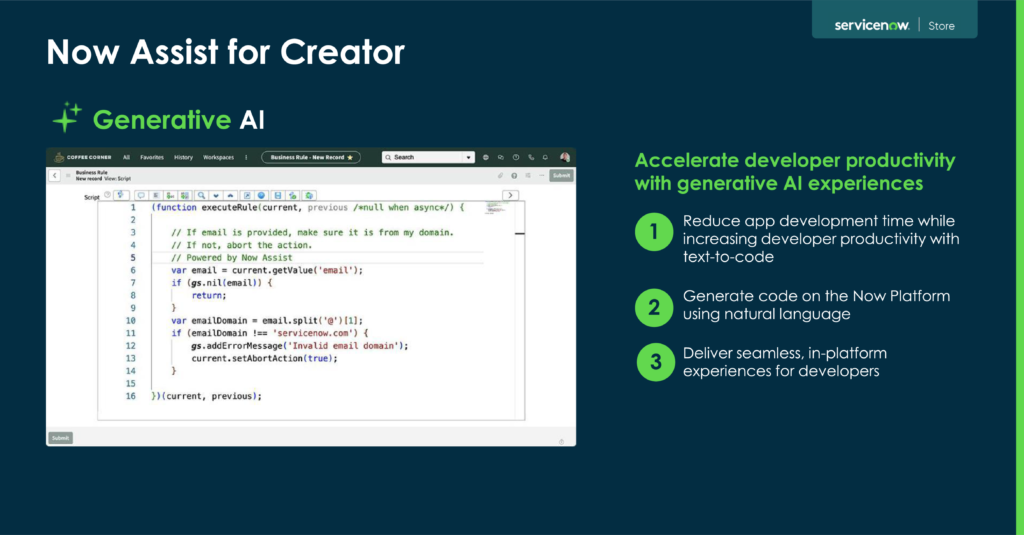 You can watch a demo of Now Assist for every workflow.
Availability:
A series of new generative AI innovations, partnerships, and enhancements were also announced today and will be accessible on September 29th; you can find more details here.
In summary, ServiceNow's Vancouver release introduces a tantalizing array of new features to its already robust lineup. Whether you're addressing access issues, managing applications, designing workflows, or harnessing AI capabilities, there's something to captivate every tech enthusiast in this release. Immerse yourself in Vancouver's tech landscape, savor these fresh additions, and elevate your ServiceNow experience to new heights. Just like the city itself, the Vancouver release seamlessly combines tradition and innovation, inviting you to explore its thrilling potential.
#ServiceNow #GenAI #DigitalTransformation #NowAssist #AIIntegration #VancouverRelease #ITManagement #CustomerService #HRService #Automation #Innovation #TechUpdates #ServiceNowReleases
Kostya Bazanov, Managing Director, Sep 22, 2023