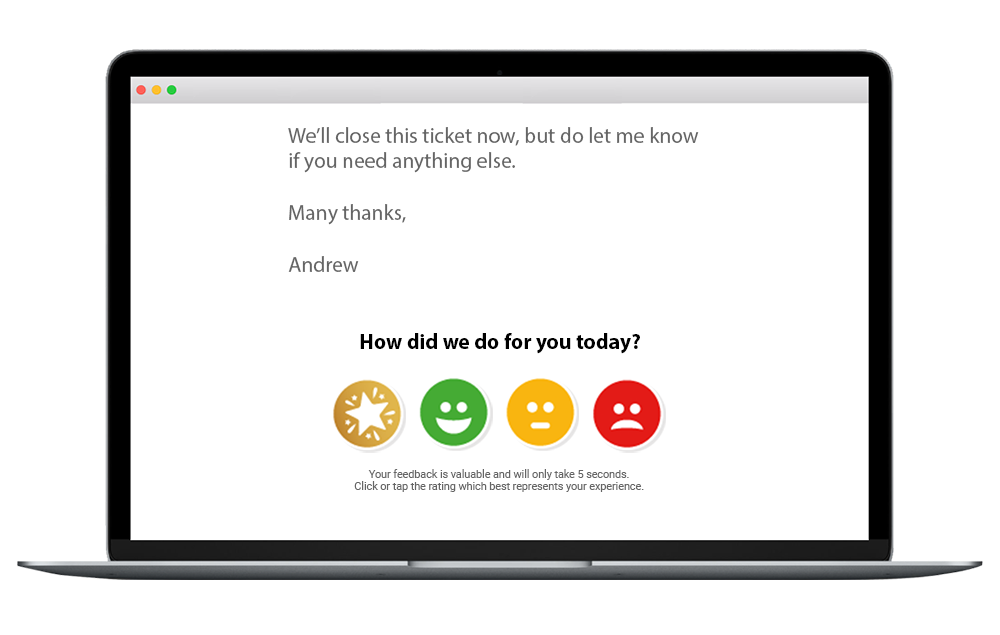 Smiley Survey – "A simple way to gather statistics on quality of provided services to the customers"
CHALLENGES
Implement an automated statistics gathering experience.

Cover the case of not logged in users.

Develop a custom logic for recording negative feedback.

Develop a custom logic for managing dashboard and managerial reports with obtained results.

Set up a simple logic for Service Desk personnel to easily manage newly created tickets associated with negative feedback.
BUSINESS VALUE
Profitability increase due to improved customer loyalty.

Increased customer loyalty due to rapidly improved satisfaction of provided services.

Real time visibility into the personnel quality of work performed.

Meaningful statics which is hard to obtain in simple and user-friendly way.
EXECUTIVE SUMMARY
One of the leading European smart IT solutions providers needed to have a way of receiving instant feedback from their customers with respect to the quality of its troubleshooting services for IT Operations.
Client had a user-friendly, branding-sensitive need to gather statistics on the quality of its services provided to the wide range of customers, users of which were usually not regular signed on end users of ServiceNow platform. When obtaining negative feedback client needed a tool to record this negative feedback, notify its Service Desk personnel management and take immediate actions to improve the perception of the customers by finding and fixing the root cause of service quality degradation.
By implementing Smiley Satisfaction Survey and custom Customer Satisfaction module within ServiceNow platform, client increased customer satisfaction and overall brand loyalty.
To meet these needs, Teiva Systems developed set of brand-sensitive smileys which were incorporated into the notification sent to the customer's end user about client's work on IT operations restorations for this customer. We also have developed separate module to record and store tickets associated with the negative feedback provided by the customers, so that personnel responsible for troubleshooting and service restoration could recognize the negative rating, find out details and react accordingly trying to improve service quality and thus increase client's loyalty.
SOLUTION
"Smiley Survey" experience was designed in form of brand-sensitive rating smileys incorporated into the outbound email to the end users, which used to have tickets in the client's system associated with degradation of the IT Service Operations. When such ticket has been resolved by the Service Desk personnel, the outbound email is sent to the end user to evaluate quality of provided services. The simplicity of the designed solution allowed the end user to provide feedback just by one click on the appropriate smiley within received email, meaning that such user didn't require to be logged in the ServiceNow Platform.
If the negative feedback was received a new ticket has to be created in the new custom application. The newly created ticket is linked to the original ticket and is assigned to the manager of the assignment group member, who resolved the original ticket.
Reports for top management were designed to display overall picture of survey results. This technique of statistics gathering helped to obtain rare cases of not logged users and to provide visibility into the quality of services delivered by the client's technical personnel and take immediate actions in case of unsatisfactory results.
Natalia Kyzyurava, ServiceNow Solution Consultant, May 20, 2021